30 Bollywood Dumb Charades Movie Names That Would Be Really Hard To Guess
So it's Saturday night and you are chilling with your friends. Conversation runs dry and someone suggests a round of dumb charades, and immediately you start panicking. That's probably because you suck at coming up with tough dumb charades movie names and always end up losing. Well, fear not!
We are here to help you make jaws drop all around with some of the most difficult (and quirkiest) dumb charade movie names ever, that are not only impossible to guess but also hilarious enough to make everyone burst out laughing.
First things First: Get the spelling right. It's 'Dumb Charades' and not 'Damsharas' as many of my friends spell this game. And now that you have learnt the correct spelling, let's get into the best hindi Dumb Charades movies.
Here are 30 of the trickiest and equally bizarre Hindi movie names to ace every dumb charades game (not Damsharas :P) ever.
1. Jal Bin Machhli Nritya Bin Bijli 
Whoever came up with this name is a genius. And before you dismiss this one, do note that this was the first Indian film for which all songs were recorded in stereophonic sound.
2) Arvind Desai Ki Ajeeb Dastaan
The movie name is just as ajeeb. Oh, and this movie is the prequel of the cult classic "Albert Pinto Ko Gussa Kyoon Aata Hai".
3) Ghar Mein Ram Gali Mein Shyam
And office mein? Trust only Govinda to star in a movie like this!
4) Badhti Ka Naam Dadhi
Not if you are Tiger Shroff. But on a serious note, WTF?
5) Udhar Ka Sindur
Taking out a loan to buy sindur? That's a bit much! Also, what's with all these Bollywood movies about sindur? Why not bindi? Aur kajal? Aur nail paint?
6) Mujhe Meri Biwi Se Bachao
Bachao bachao! That's the story of every married guy out these.
7) Saas, Bahu Aur Sensex
What do saas and bahu have to do with the stock market? Watch to find out! Barring the odd name, the movie boasts of a great starcast of talented actors and focuses on the complexities of discovering love in the city that never sleeps – Mumbai.
8) Dhoti Lota aur Chowpatty
Lol what? Also the movie which gave us gems like, "chal gai chal gai ishk ki goli chal gai!"
9) Paap Ko Jalaakar Raakh Kar Doonga
That's quite a mouthful. The movie was originally titled "Jalaa Kar Rakh Kar Doonga" but later "Paap Ko" was added.
10) Do Ladke Dono Kadke
Story of me and my friend's lives. But on a serious note, this movie is a laugh riot!
11) Guru Suleiman Chela Pahalwan
This title makes no sense, honestly. A movie starring Dara Singh, Mehmood and Bindu in lead role. Definitely worth a watch when you're drunk or high or both.
12) Bhediyon Ka Samooh
Also known as my squad when they spot biryani. Story of a son who is pressured into accepting bribes by his father. That's great parenting right there!
13) Dr. Kotnis Ki Amar Kahani
 This movie also released in English. Considering it was 1946, that's a big deal.
14) Satah Se Uthata Aadmi
I mean what's that even supposed to mean? Literally translating to "Arising from the Surface", this movie was actually screened at Cannes back in 1981.
15) Hello..Hum Lallan Bol Rahe Hain
Hello! Kaun? This movie was a big hit in Bihar and we can tell why.
16) Laali Ki Shaadi Mein Laaddoo Deewana
I like laddus, I don't like this movie title. What's with Laali, Laaddoo and shaadi?
17) Lashtam Pashtam
This one could definitely be a game changer. This 2018 Om Puri starrer bollywood movie would definitely blow any opponents mind in a Dumb Charades game.
18) Sasti Dulhan Mahenga Dulha
Sounds incredibly low budget. Bunch of extras in lead roles. Who comes up with such movies?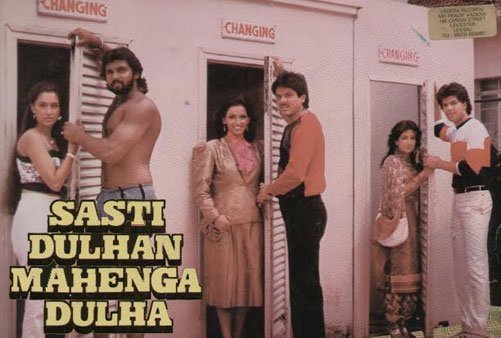 19) Salim Langde Pe Mat Ro
But what if I feel really feel bad for Salim? This langda is a total badass!
20) Saare Jahaan Se Mehenga
Me, whenever I step into Zara. The sequel can be about demonetization.
21) Dilruba Tangewaali 
Also, not a Sholay spinoff. But the story suspiciously sounds like that of Basanti.
22) Shin Shinaki BooblaBoo
WTF! The poor actor wouldn't be able to tell his team if the words are in Hindi or English 😀
23) Mohan Joshi Hazir Ho
Yes, Your Honour! This 1984 hindi art film was a comic satire on the judicial system.
24) Anaarkali Of Aarah 
Pehle Disco and now Aarah – What is Anaarkali Upto? This 2017 movie starring Swara Bhaskar has been critically acclaimed.
25) Aaj ka MLA – MLA Ram Avatar 
MLA  Ram Avatar – Isn't that an Oxy Moron? Apne ko kya hai, Apne ko sirf Dumb Charades Khelna hai.
26) Dulhan Wahi Jo Piya Mann Bhaaye 
My Life, My Choice! This 1977 Rajshri Bollywood movie was a surprise hit.
27) Main Madhuri Dixit Banna Chahti Hoon
Well, Antara Mali could never become Madhuri!  However, you could probably become a Dumb Charades Champion with this movie name.
28) Thoda Sa Roomani Ho Jaaye 
Nahi! Aaj Mood nahi hai. Fun Fact: This Nana Patekar starrer has become a part of management courses and human behaviour studies.
29) Sant Ravidas Ki Amar Kahaani 
Name of people in titles & it's tough to guess! That's a Dumb Charades rule to remember.
30) Zimbo Comes To Town
What? Who? This is one of the lesser known movies from the 1960s inspired by Tarzan and one of the first sequels in Bollywood. The first movie Zimbo was released in 1958.
These Bollywood gems are sure to make you a hit at the next beer fueled dumb charades championship with your friends. And maybe afterwards, you can watch one of these movies, just for the laughs!
Update: 
Here are a few more names you could additionally consider and a few really long hindi movie titles for Dumb Charades:
Andheri Raat Mein Diya Tere Haath Mein
Tu Bal Bramchachaari, Mein Kanyakumari
Fun2sshh
Albert Pinto Ko Gussa Kyun Aata Hai
Sone ka Dil, Lohe Ka Haath
Ajab Singh Ki Gazab Kahaani
Amit Sahni Ki List
The Film Emotional Attayachar
The Legend Of Michael Mishra
Meena Kumari Ki Amar Kahani
Pyar Karne Wale Kabhi Kam Na Honge
Teri Mang Sitaron Se Bhar Doon
Balwinder Singh Famous Ho Gaya
Kuku Mathur Ki Jhand Ho Gayi
My Name Is Anthony Gonsalves
Don Muthu Swami
Shagird
Kondura
Ghulam-e-Mustafa
Sikandar E Azam
Stanely ka Dabba
Ladki Sahyadri Ki