50 Best Bollywood Dumb Charades Movies Really Really Hard To Guess
So it's Saturday night and you are chilling with your friends. The conversation runs dry and someone suggests a round of dumb charades (aka Damsharas and Dumsharaz like many of my friends would spell it), and immediately you start panicking. That's probably because you suck at coming up with tough dumb charades movies and always end up losing. Well, fear not. Winning in a dumb charades game is not difficult especially if you have a small cheat sheet of some of the best Hindi dumb charades movies from Bollywood!
We are here to help you make jaws drop all around with some of the most difficult (and quirkiest) Bollywood dumb charades movies ever, that are not only impossible to guess but also hilarious enough to make everyone burst out laughing.
Also read: 27 Really Long Bollywood Movie Names
Here are 50 of the trickiest and equally bizarre Hindi dumb charades movies to ace every dumb charades game (not Damsharas or Dumsharaz :P) ever.
1. Jal Bin Machhli Nritya Bin Bijli
Whoever came up with this name is a genius. And before you dismiss this one, do note that besides being a great Dumb Charade movie name, this was the first Indian film for which all songs were recorded in stereophonic sound.
2) Arvind Desai Ki Ajeeb Dastaan
The movie's name is just as ajeeb. Oh, and this movie is the prequel to the cult classic "Albert Pinto Ko Gussa Kyoon Aata Hai". Both make perfect options for a Dumb Charades round.
3) Ghar Mein Ram Gali Mein Shyam
And office mein? Trust only Govinda to star in a movie like this!
4) Badhti Ka Naam Dadhi
Not if you are Tiger Shroff. But on a serious note, WTF?
5) Udhar Ka Sindur
Taking out a loan to buy sindur? That's a bit much! Also, what's with all these Bollywood movies about sindur? Why not bindi? Aur kajal? Aur nail paint?
6) Mujhe Meri Biwi Se Bachao
Bachao bachao! That's the story of every married guy out there.
7) Saas, Bahu Aur Sensex
What do saas and bahu have to do with the stock market? Watch to find out! Barring the odd name, the movie boasts a great star cast of talented actors and focuses on the complexities of discovering love in the city that never sleeps – Mumbai.
8) Dhoti Lota Aur Chowpatty
Lol, what? Also, the movie gave us gems like, "chal gai chal gai ishk ki goli chal gai!"
9) Paap Ko Jalaakar Raakh Kar Doonga
That's quite a mouthful. The movie was originally titled "Jalaa Kar Rakh Kar Doonga" but later "Paap Ko" was added. True vigilante sh*t.
10) Do Ladke Dono Kadke
Story of me and my friend's lives. But on a serious note, this movie is a laugh riot!
11) Guru Suleiman Chela Pahalwan
This title makes no sense, honestly. A movie starring Dara Singh, Mehmood, and Bindu in the lead roles. Definitely worth a watch when you're drunk or high or both.
12) Bhediyon Ka Samooh
Also known as my squad when they spot biryani. Story of a son who is pressured into accepting bribes by his father. That's great parenting right there!
13) Dr. Kotnis Ki Amar Kahani
This movie was also released in English. Considering it was 1946, that's a big deal.
14) Satah Se Uthata Aadmi
I mean what's that even supposed to mean? Literally translating to "Arising from the Surface", this movie was actually screened at Cannes back in 1981.
15) Hello…Hum Lallan Bol Rahe Hain
Hello! Kaun? This movie was a big hit in Bihar and we can tell why.
16) Laali Ki Shaadi Mein Laaddoo Deewana
I like Laddus, I don't like this movie's title. What's with Laali, Laaddoo and shaadi?
17) Lashtam Pashtam
This one could definitely be a game-changer. This 2018 Om Puri starrer Bollywood movie would definitely blow any opponent's mind in a Dumb Charades game.
18) Sasti Dulhan Mahenga Dulha
Sounds incredibly low-budget. Bunch of extras in lead roles. Who comes up with such movies?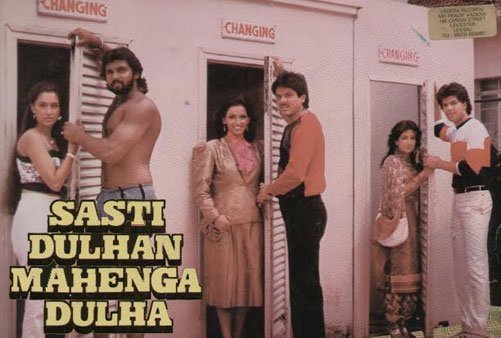 19) Salim Langde Pe Mat Ro
But what if I feel really feel bad for Salim? This langda is a total badass!
20) Saare Jahaan Se Mehenga
Me, whenever I step into Zara. The sequel can be about demonetization.
21) Dilruba Tangewaali
Also, not a Sholay spinoff. But the story suspiciously sounds like that of Basanti.
22) Shin Shinaki BooblaBoo
WTF! The poor actor wouldn't be able to tell his team if the words are in Hindi or English 😀
23) Mohan Joshi Hazir Ho
Yes, Your Honour! This 1984 Hindi art film was a comic satire on the judicial system.
24) Anaarkali Of Aarah
Pehle Disco and now Aarah – What is Anaarkali Upto? This 2017 movie starring Swara Bhaskar has been critically acclaimed.
25) Aaj ka MLA – MLA Ram Avatar
MLA Ram Avatar – Isn't that an Oxy Moron? Apne ko kya hai, Apne ko sirf Dumb Charades Khelna hai.
26) Dulhan Wahi Jo Piya Mann Bhaaye
My Life, My Choice! This 1977 Rajshri Bollywood movie was a surprise hit.
27) Main Madhuri Dixit Banna Chahti Hoon
Well, Antara Mali could never become Madhuri! However, you could probably become a Dumb Charades Champion with this movie name.
28) Thoda Sa Roomani Ho Jaaye
Nahi! Aaj Mood nahi hai. Fun Fact: This Nana Patekar starrer has become a part of management courses and human behaviour studies.
29) Sant Ravidas Ki Amar Kahaani
Name of people in titles & it's tough to guess! That's a Dumb Charades rule to remember.
30) Zimbo Comes To Town
This is one of the lesser-known movies from the 1960s inspired by Tarzan and one of the first sequels in Bollywood. The first movie Zimbo was released in 1958.
31) Fraud Saiyaan! Sab Mard Kutte Nahi Hain.
Bollywood movie titles never fail to surprise you!
32) The Accidental Prime Minister
This political drama based on the tenure of former Prime Minister Dr. Manmohan also happens to be one of the best Hindi dumb charade movies.
33) Omerta
This biographical crime drama film starring Rajkumar Rao is a biographical crime drama based on the life of the dreaded terrorist Omar Saeed.

34) Kaalakaandi
For those who do not know Kaalakaandi is a Marathi slang that means 'when everything goes disastrously wrong'.
35) One Day Justice Delivered!
This Anupam Kher – Esha Gupta starrer thriller failed to impress the audiences but might help you win the dumb charades game.
36) Mehandi Ban Gayi Khoon!
If you find the title bizarre wait till you hear the plot of the movie. It's hard to believe that Juhi Chawla would do a movie like this. Make the losing team of the game watch this movie for the ultimate prize for the winners.
37) Khandaani Shafakhaana
While the name of the movie is hard to understand in the first few guesses (come on who uses shafakhana in their daily language?), it might probably make you win the game. This Sonakshi Sinha starter made headlines on its release but failed to be a commercial success. It is, however, worth a watch for the message that it sends across.
38) Ghulam-e-Mustafa
I feel no one will even be able to pronounce the title correctly in Urdu, let alone act it out in dumb charades. The movie is about a contract killer who attempts to leave crime after his wife is murdered.
39) Miss Tanakpur Haazir Ho
What a strange title right? It might pique your curiosity as to who Miss Tanakpur is. I mean she is obviously a human, right, considering she's being called to court. Right? WRONG. Miss Tanakpur is the village headman's buffalo whom he alleges is raped by his wife's lover. Sounds crazyyyy.
40. Shakeela
It's always hard to act out names in a charades game and this one is no different. Shakeela is the biopic of South Indian adult actress Shakeela. The movie deals with her rough background and her rise to fame at the young age of 18.
41. Andheri Raat Mein Diya Tere Haath Mein
Along with being known for its strange and weirdly long name, this 1986 movie is also known for its double-meaning dialogues. You better have a partner to help you out in acting this movie's name.
42. Hum Bal Brahmachari Tu Hai Kanya Kunwari
Honest kudos to the genius who came up with this movie title! Another movie to make the losing team regret playing against you!
43. Ajab Singh Ki Gazab Kahaani
No, the movie is not a sequel to Ajab Prem ki gazab Kahani. As against the unusual and eccentric movie plots that we have been seeing, this movie actually has an inspirational plot.

44. Meena Kumari Ki Amar Kahani
Another biography of one of Indian cinema's most loved actresses- Meena Kumari. In her career that spanned over 30 years, she was part of 90+ movies. The Tragedy Queen, unfortunately, passed away at the early age of 39 due to alcoholism. Her story will truly be amar in our hearts.
Mithun Chakraborty starred, it is one of the best dumb charades movies.
46. Don Muthu Swami
This stereotypical Bollywood South Indian name will surely help you win the game.
While I'm doubtful if anyone would even know the meaning of the word, acting it out should be fun!
We have already established how hard it is to act out proper nouns. Kondura is the name of a tiny coastal village in Southern India. The movie which is based on this village is a bilingual Shyam Benegal directorial piece.
Something about old Bollywood historical moves. Sikandar-e-Azam is a 1965 movie on the invasion of Alexander and his relations with Porus with a fictional twist.
50. Ladki Sahyadri Ki
If you get this one right in a charades game, you are a geography genius! Starring Sandhya, Ladki Sahyadri Ki is a typical old sati-savitri movie.
These Bollywood dumb charades movies are sure to make you a hit at the next beer-fueled dumb charades championship with your friends. And maybe watch some of these movies afterward, just for laughs. Let us know which ones from these could be guessed by your friends and which ones made you struggle! If your opponent is a sour loser and refuses to believe that the movies you mentioned are real, just click on the share button 😉
Also read: 20 Funny Bollywood Movie Names That'll Leave You ROFLing!